Meta
Meta Platforms, Inc. is an American multinational technology conglomerate based in Menlo Park, California. The company owns 3 of top 4 social networks in the world: Facebook, Instagram, and WhatsApp. More than 3.5 billion people use at least one of the company's core products every month.
Performance Review Overview
| | |
| --- | --- |
| Name | PSC (Performance Summary Cycle) |
| Frequency | Yearly |
| When | January - March |
Latest Performance Reviews
---
Level
New Salary
Equity Grant
Bonus
Rating
Promoted?
Date

E4

Mid Level Software Engineer

$168,000

$82,000

$10,420

E6

Staff Software Engineer

$230,000

$0

$24,496

E5

Senior Software Engineer

$231,660

$0

$33,414

GE

Greatly Exceeds Expectations
Level
New Salary
Equity Grant
Bonus
Rating
Promoted?
Date

E4

Mid Level Software Engineer

$168,000

$82,000

$10,420

E6

Staff Software Engineer

$230,000

$0

$24,496

E5

Senior Software Engineer

$231,660

$0

$33,414

GE

Greatly Exceeds Expectations

E5

Senior Software Engineer

$202,510

$226,170

$31,053

GE

Greatly Exceeds Expectations

E5

Senior Software Engineer

$188,199

$193,720

$25,945

GE

Greatly Exceeds Expectations
Ratings
---
Redefines Expectations
Reserved for the very top performers in a certain level. This requires a huge amount of provable impact.
GE
Greatly Exceeds Expectations
MM
Meets Most Expectations
MS
Meets Some Expectations
Redefines Expectations
Reserved for the very top performers in a certain level. This requires a huge amount of provable impact.
Evaluation
---
Engineers are evaluated along 4 axes:
Project Impact: The business results you drove. This includes the projects and experiments that shipped, along with quantifiable outcomes. Most engineers have the most to talk about in this section.
Direction: Influencing the work done by others. This could be about the strategy and priorities at the team, organization, or company level. This axis becomes increasingly important at Senior+ levels.
Engineering Excellence: Work done to design better systems, improve developer velocity, and reduce/fix bugs.
People: Non-technical contributions such as mentorship, interviews, and onboarding. Also konwn as organizational impact, this is work that helps the team.
Feedback
---
Self Review
Self reviews are typically between 500 - 1500 words. You should include links to diffs, Workplace posts, and other supporting evidence.
Self reviews document the work you did throughout the performance review cycle. Engineers will segment their work into each performance axis: Project Impact, Direction, Engineering Excellence, and People.
Peer Feedback
When asking for peer feedback, include a few sentences about the work you did together, along with projects they could reference in their review.
You should generally get feedback from 3 - 8 people. You'll want a diversity of perspectives in your packet. Consider including designers, product managers, and engineers at varying levels and across teams.
When someone requests peer feedback from you, your writing should fall in 2 categories:
What impact did this person have?
How could this person achieve more? What can they improve on?
When submitting feedback, you have the option to decide if you want the feedback to be shared or not. Sharing it means that your name and full feedback will be shared with the engineer at the conclusion of PSC.
The tool recommends 250 words of feedback, but you should feel free to write more if you have more to say.
Upward feedback
Engineers also provide feedback to their manager, which is revealed after calibrations are done (2 months later).
You'll answer questions like "How did your manager unblock your work and make the team more productive?" and "How does the manager encourage diverse perspectives?"
Calibration
---
The goal of calibration is to (1) assign ratings for each engineer in a fair way and (2) decide who should get promoted. Each engineering level has a separate calibration.
Calibrations involve the managers of engineers being discussed, along with senior ICs who may provide additional perspective. Here's the process for each engineer:
The manager will provide a 1-2 minute summary of the engineer's impact since the last performance cycle.
The manager will propose a rating along with a justification for promotion (if applicable).
Others in the calibration will ask questions and compare the achievements to previously discussed engineers to ensure fairness.
---
A note on stack ranking: Meta doesn't enforce a distribution of ratings at the team level, but there is an expectation of a certain % breakdown of ratings within larger orgs. Once an initial rating is in place, it will get sent up the chain for VP approval. The VP then aggregates data and may force certain orgs to adjust ratings up or down based on budget considersations.
Compensation
---
Meta is an industry leader when it comes to rewarding engineers for top performance 💸
Meta is unique in their formulaic approach to compensation. Once your PSC rating is established, your manager has no direct ability to change your pay. There are 3 components to compensation:
Cash bonus
Equity refresh
Salary adjustment
Adjustments are determined from an individual multiplier (IM) and company multiplier (CM) that is determined based on performance.
Individual Multiplier
The individual multipliers (IM) are determined based on your rating:
| Rating | Bonus multiplier (%) |
| --- | --- |
| Meets Some (MS) | 0x |
| Meets Most (MM) | 0.65x |
| Meets All (MA) | 1x |
| Exceeds (EE) | 1.25x |
| Greatly Exceeds (GE) | 1.65x |
| Redefines (RE) | 2.5x |
Company Multiplier
The company multiplier (CM) captures how well the overall company is doing.
The CM is determined by the Meta board of directors based on the company's performance relative to goals. In recent years, the multipler has ranged between 1.05 - 1.3. with a few exceptions of it dipping below 1. (e.g. 0.9 during the Cambridge Analytica scandal 😏)
---
Now we can talk about each component of compensation:
Bonus
Cash bonuses are computed with: Base salary * Level Multiplier (LM) * Inividual Multiplier (IM) * Company Multiplier (CM)
The multipliers by level are: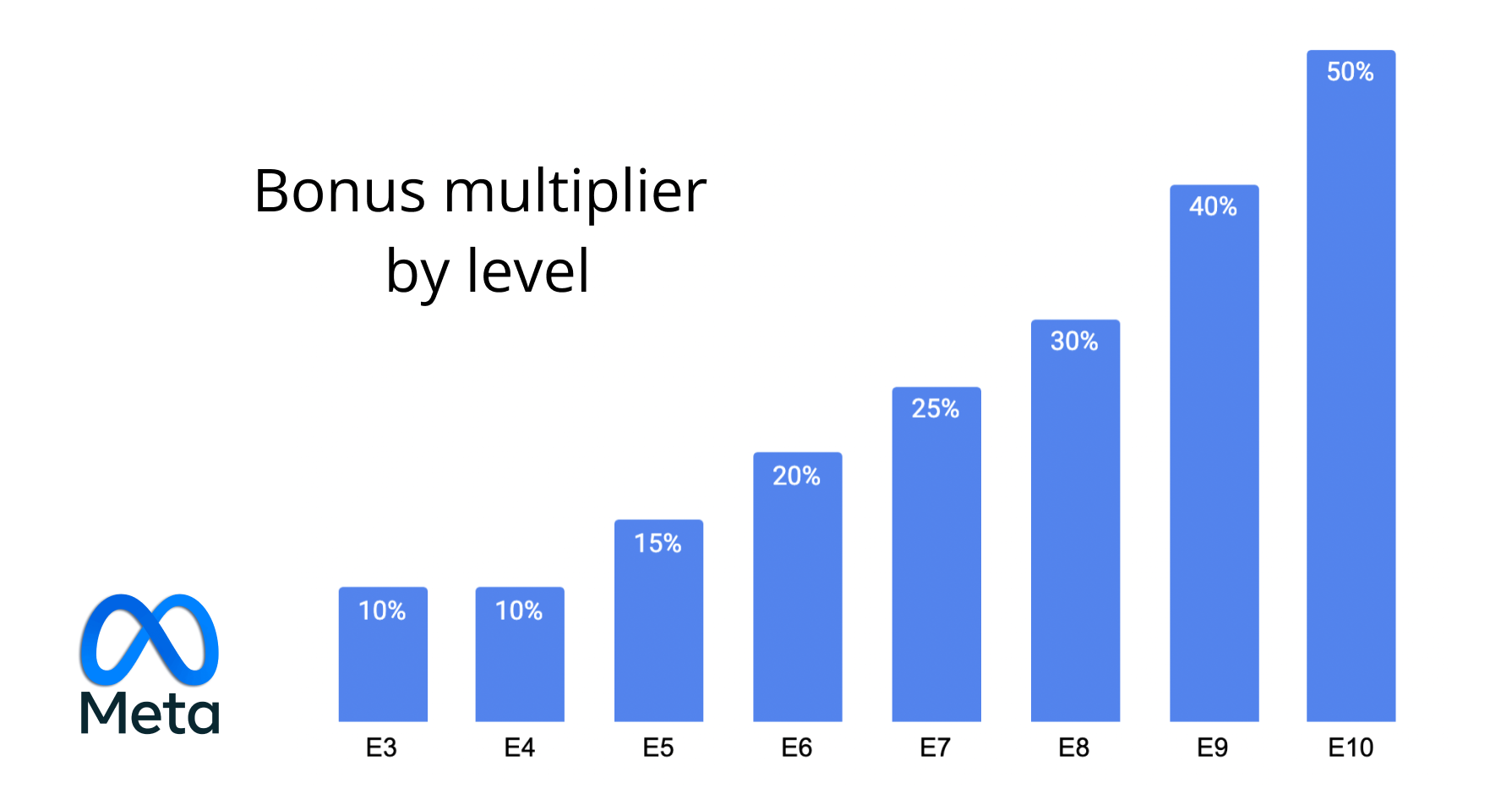 The bonus at the starts off at 10% for E3, but it rapidly increases until it reaches a whopping 50% for E10, the VP level.
A senior engineer with a salary of $220K/year has a target bonus of $33K. A Vice President making $400K/year has a target bonus of $200K!
Equity Refresh
With each performance cycle, employees will receive equity refreshers (in addition to their new hire stock gran). So employees who have stayed at the company for several years can stack multiple stock grants for substantial TC increases. Equity refresh grants are based off a dollar value, which is then coverted to a certain number of Meta stock. These grants vest over 4 years with no cliff (they start vesting quarterly right away).
The values below are from Gergely's Meta breakdown in 2022: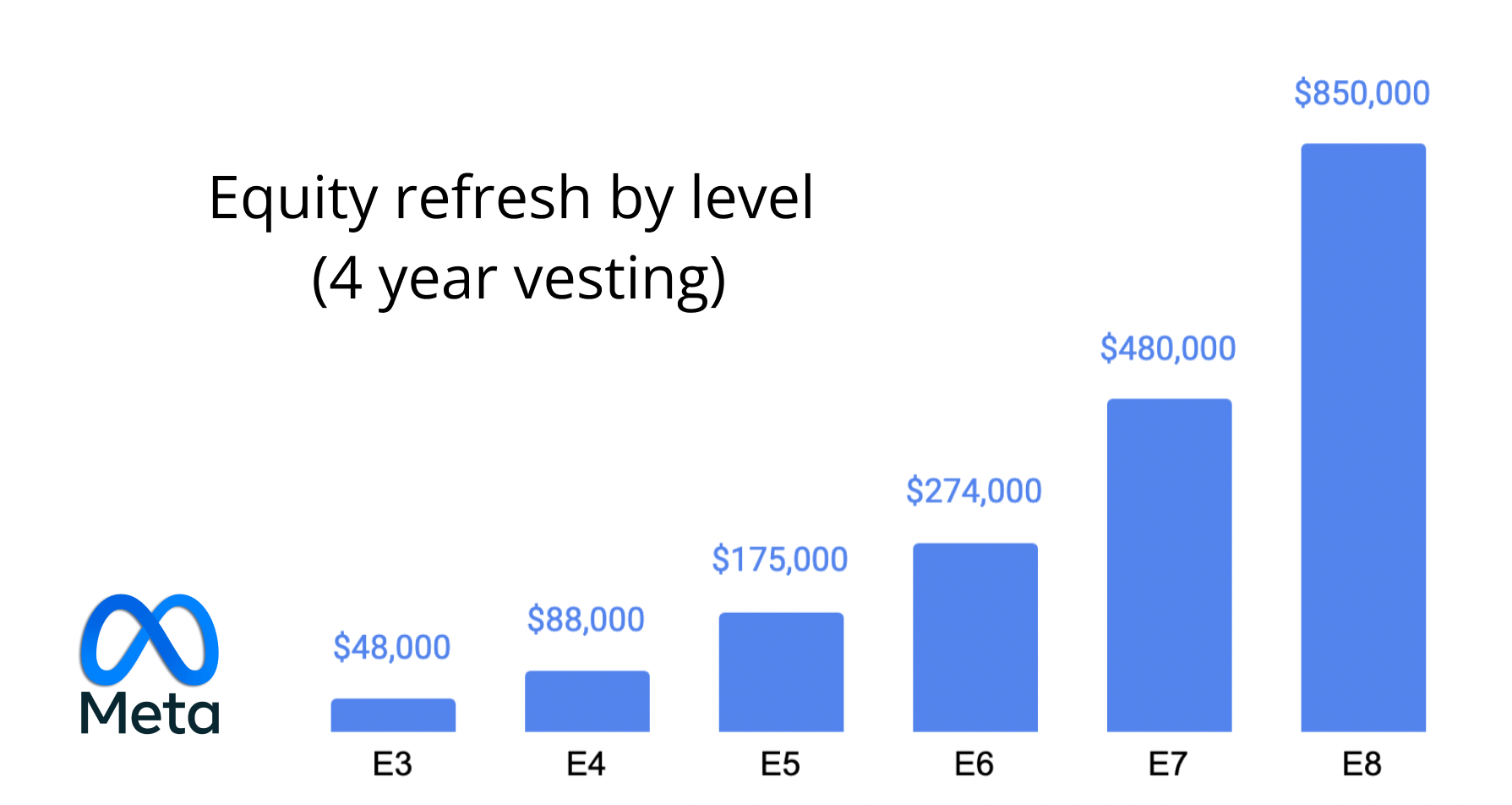 Similar to bonus, the value for the equity refresh is also adjusted up or down based on the individual and company multiplier.
A Staff Engineer meeting expectations can expect their TC to go up $70K/year, since they'd get $274K / 4 from the equity grant, along with a salary adjustment.
Salary
Meta defines a salary band for each level, and adjustments are made based performance (the individual multiplier).
Additional Equity
Another unique element of Meta's compensation culture is Additional Equty (AE), previously referred to as Discretionaty Equity (DE). These are one-off equity grants that are given by Senior Directors or higher. The exact amount and frequency of AE is unclear, but we know it is rare.
AE can be anywhere from $150K to $1M+ based on the discretion of senior leadership 💰
Additional Equity is used as a retention mechanism:
To soften a TC drop when the initial 4 year grant is close to expiring. Engineers who were promoted rapidly will often have a lower TC compared to external hires at the same level.
To reward exceptional performance. AE incentivizes engineers to stick around for several more years to benefit from the equity grant.
Performance Improvement Plan
---
Meta has a high bar for performance and expects independent and impact-driven engineers.
There is a high risk of receiving a PIP if you get an MS (Meets Some expectations) rating, or 1-2 MM (Meets Most expectations) ratings. This results in a formal meeting with your manager and the Human Resources contact (HRBP) who will outline the milestones you need to hit in order to "graduate" from the PIP.
If you're a new grad engineer, make sure you understand "up or out" at Meta, and how that may impact potential team switches.
Another unique aspect to Meta's culture is "up or out": new engineers must get promoted to E5, the first terminal level, within a few years.
E3 to E4 (entry-level to mid-level): 24 months
E4 to E5 (mid-level to senior): 33 months
So a new grad engineer (E3) must reach senior (E5) within 4.75 years to avoid getting fired. The reason behind this is Meta's philosophy that all engineers should rapidly expand their ownership and scope.
When an engineer has stayed at a certain level beyond the recommended amount of time, they start to get evaluated at the next level (despite still getting compensated at the lower level).
The 🟨 yellow zone starts if you've been an E3 for 15 months or E4 for 12 months without a promotion
The 🟥 red zone starts if you've been an E3 for 20 months or E4 for 27 months without a promotion.
For example, an E4 engineer in the red zone will have the same expectations as an E5.